地球上最好吃的桃子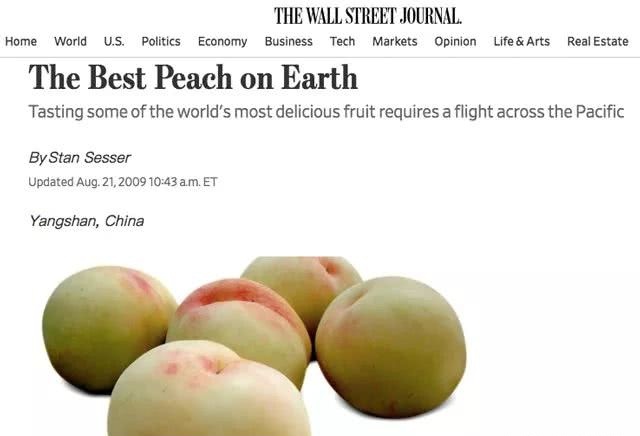 地球上最好的桃子
The Best Peach on Earth
来源:《华尔街日报》
品尝世上最美味的水果需要飞到大洋彼岸
原作者:斯坦·塞瑟
译者:蜜桃君
2009年8月21日 中国·阳山
This little town, a 90-minute train ride west of Shanghai, is a world away from Georgia. There's no Peachtree Street, no peach pie, no peach ice cream. About all Yangshan has are the juiciest, most delicious peaches on earth.
这个小镇距上海只有动车90分钟车程,但与美国佐治亚恍如隔世。没有桃树街,没有蜜桃派,没有蜜桃冰淇淋,但阳山有世界上最多汁、最美味的桃子。
In 10,000 orchards, ranging from the backyards of homes to substantial farms, Yangshan's trees are now groaning with a bumper crop of shui mi tao, "water honey peaches." Big, soft and white-fleshed, they must be tasted to be believed; in this peach lover's estimation, nothing from Georgia or California comes close. They are best eaten over a sink, to avoid showering the floor with peach juice.
从房子后院到农田上万个果园里,阳山桃树上正挂着成熟的水蜜桃。又大又软又白,必须尝了之后才能让人相信;对于爱桃者来说,美国从东(佐治亚)到西(加利福尼亚)无一物能与之媲美。这种水蜜桃最好是趴在水槽上吃,免得桃汁洒满地。
With its wide-ranging climates and topography, Asia is a fruit lover's paradise, boasting some of the world's best-tasting mangoes, pears and bananas. Yet in an age when Australian lamb and Kobe beef from Japan wing their way around the world, most Asian fruits remain thousands of miles from U.S. kitchens.
丰富多样的气候和地貌,使亚洲成为水果吃货的天堂。亚洲有全球最好吃的芒果、鸭梨和香蕉。然而在澳洲羊肉、日本神户牛肉销往全球的时代,大多数亚洲水果却与美国家庭相隔万里。
By the time a peach was flown in from China, treated with irradiation or chemicals to kill pests, and then trucked to a retailer's produce aisle, it would be so expensive that almost no one would buy it. In Tokyo, $100 melons and $25 mangoes are lovingly displayed in major department stores and quickly purchased. But a $100 melon, not to mention a $10 peach, would in America likely draw more unbelieving stares than purchasers.
当桃子从中国空运到美国,经过杀虫处理用卡车运到超市时,它已变得极其昂贵,以致罕有问津者。在日本东京,100美元的甜瓜和25美元的芒果在各大超市非常抢眼并迅速售罄。但在美国,100美元的甜瓜都会让人投来难以置信的目光,更不用说10美元一只桃子了。
The American marketing system puts a premium on long shelf life, while Asian fruits are never bred to be eaten weeks after being picked. In Thailand, the wonderfully aromatic and flavorful nam wa banana has a lifespan of five days between the time when it's completely green and when it's overripe. By contrast in the U.S., the Cavendish banana—that long, yellow banana that pushes aside all other varieties in supermarkets—can be picked in Central America hard and green weeks in advance, sent by ship and ripened by gas. It's the perfect banana for merchandisers, notwithstanding the fact that it has no aroma and no taste.
美国商家青睐保质期长的水果,而亚洲水果采摘后却要尽快食用。泰国香气扑鼻美味可口的香蕉从发青到熟透只要五天。相比之下,美国加文迪香蕉可提前几周在又青又硬时采摘,船运时逐渐被密闭闷热的集装箱闷熟。尽管这种香蕉已经没什么香气和风味,但它仍是最适合商家的完美香蕉。
Thai bananas are long-lived compared with China's honey peaches. Picked in the morning, the peaches are flown to Beijing or trucked to Shanghai in the afternoon; in many cases, they are selling in stores the same evening. On a recent Saturday afternoon in Yangshan's wholesale peach market, I asked a grower to find me a carton of peaches that I could take home with me to Bangkok on Monday. No peach in the market would last that long, he replied; I'd have to go with him to his orchard so he could pick me hard, green ones. He warned me that I'd be sacrificing some taste because they would be picked too early. By Tuesday, the green peaches I ended up taking home with me were so soft that I had to put them all in the refrigerator. They were still delicious.
与中国水蜜桃相比,泰国香蕉寿命还算长的。早晨采摘桃子,下午运往北京,或用卡车运抵上海。在大多数情况下,它们在当晚就上架出售。最近一个周六的下午,在阳山我让一个桃农给我来一箱桃子,星期一要带去曼谷。他回答说阳山没有桃子能放这么久!我不得不和他一起去果园,这样他才肯给我挑青的硬的。他告诫我:这会牺牲水蜜桃的口感,因为采摘得太早了。到了星期二,我最终带回家的桃子已经变得很软,以至于必须将它们全部放入冰箱。但他们仍然很美味。
Tang Haijun, a big honey peach grower and an industry spokesman, says another problem with Chinese peaches is that they are extraordinarily fragile. "They're so tender, if you press on one, in an hour there will be a black spot," he says. Over a lunch of local specialties (snails, pigs feet, pumpkin stems, his peaches for dessert), Mr. Tang explained that to keep away insects, he has every peach in his orchard individually wrapped with newspaper while it is ripening on the tree. All this special handling comes at a price: A honey peach sells for as much as $3 in a Shanghai or Beijing grocery store.
一位叫唐海君(音)的桃农代表说,阳山桃子的另一大问题是它们非常娇弱。"桃子特别软,以至于你只要按一下,桃子一个小时内就会出现黑斑。"在吃饭的时候他还告诉我,为了防虫,他把果园里的每个桃子都用报纸单独包裹起来。这种特殊处理带来了经济回报:在上海或北京的超市里,一只水蜜桃的售价高达3美元。
In the U.S., peach technology produces a very different product. "It's unfortunate that many of our peaches are bred to have superior shelf life and exterior color," says Karen Caplan, chief executive of Frieda's Inc., a Los Alamitos, Calif., high-end distributor of imported and domestic produce. "The growers don't focus on flavor. They refrigerate them in transit, put them on the shelf, and they go mealy."
在美国,桃子生产情况截然不同。"很遗憾,我们(美国)很多桃子只有出色的保质期和颜色外观,"弗里达公司CEO卡伦•卡普兰表示。"种桃的人并不注重口感。他们在运输时直接把桃子冷冻起来,放在架子上,然后桃子就变干了。"
"The whole fruit industry in this country is about decorating stores," says John Driver, a Modesto, Calif., apricot grower who sends his fruit to farmers markets around San Francisco. "They're looking for size, color and hardness, but people don't want to eat the things."
"美国整个水果行业都把精力放在店面装修上了,"加州杏农约翰说,当他将水果送到旧金山附近的农贸市场时,"他们只看尺寸、颜色和硬度,但根本不想吃。"
Al Courchesne, owner of Frog Hollow Farm in Brentwood, Calif., strives to grow older varieties of peaches that emphasize flavor. He says the best peaches have yellow or white skin with only a little red color. Supermarket peaches are bred to be almost entirely red. "The supermarket industry claims their studies show that people purchase fruit by color, and the color red triggers an expectation of sweetness in the human brain," he says. If that's the case, our brains wouldn't give Chinese honey peaches a second look. Their skins are a sickly, greenish white.
加州弗洛格农场主库什涅致力于种口感好的桃子老品种。他说桃子最好表皮呈黄色或白色,仅有少许红色。而美国超市的桃子几乎全是红的。他说:"超市方声称他们的研究表明,消费者根据颜色购买水果,而红色能触发人脑对甜味的渴求。"如果是这样的话,美国消费者就根本不会看中国水蜜桃第二眼了。因为中国水蜜桃的"肤色"是发青发白的。
Growing honey peaches on U.S. farms isn't practical, either. "It can be done, but it would be very time-consuming," says Mr. Courchesne, speaking of Agriculture Department regulations that require quarantine of imported fruit trees. To prevent the arrival of agricultural viruses, the USDA requires a period of isolation that could last several years, he says. When that period was over, growers would have trees bearing an ugly-looking fruit so delicate it would require special handling and rapid-fire distribution.
此外,在美国农场种植蜜桃亦不可行。库什涅在谈到美国农业部要求对进口果树进行检疫的法规时说:"种是可以种,但很费功夫。"他说,为了防止农业病毒,美农业部要求的隔离期往往会持续数年。当隔离期好不容易结束时,桃子还会因为长相难看而使销售犯难。
The best bet, then, is to eat honey peaches in China, and that's what I did with wild abandon, consuming 10 peaches, averaging half a pound each, in a single day in Yangshan. Under the tutelage of Mr. Tang, I learned that Chinese peach-eating is a very different process. First, you should gently massage the peach for several minutes, releasing the juice. When it starts feeling like a sponge, it's ready to be peeled; the skin slips off like a glove. Then you just pick it up whole and slurp away; cutting it would result in waste of the delicious juice.
那么,最好的选择还是在中国吃水蜜桃,这就是我在阳山大吃一整天的原因。一天吃10个桃子,平均每个桃子重约半磅(琛按:约4.5两,或454g)。在桃农指导下,我了解到中国人吃桃子的过程是很讲究的。首先,您要轻轻按摩桃子几分钟,让桃释放出桃汁。当感觉桃子有点像海绵时,就可以剥皮了;桃皮可以像手套一样剥落。然后你直接大快朵颐就好;如果是拿刀切的话会浪费美味的桃汁。
The water honey peaches must be individually wrapped to prevent insect infestation during the late-stage growth period.
水蜜桃在树上必须每只单独套袋,以防止在后期生长阶段被虫咬。
Chinese cities are flooded with honey peaches during peach season, which is July and August; every fruit market has bushels of them. The nearest train station to Yangshan, in Wuxi, has so many stands selling peaches in gift boxes that the entire station, not noted otherwise for its pristine air, takes on an enticing peach odor. Mr. Tang looked shocked when I told him that Americans ate bowls of fruit for breakfast or cut peaches over their cereal. The Chinese would never eat a peach (or almost any other fruit) at breakfast. Despite the willingness of Chinese chefs to toss exotic ingredients into their woks, peaches are never used for cooking, nor are they turned into sauces to accompany duck or anything else—not even ice cream, which is widely consumed in China. "You just eat them," Mr. Tang said, shrugging. The same goes for other fruits, like oranges. Once I visited Kunming, the capital of Yunnan Province, at the peak of orange season; vendors were literally selling huge piles of oranges at every street corner. But even at a luxury hotel, I was unable to get a glass of fresh orange juice (only some upscale restaurants in China serve a glass or pitcher of fresh fruit juice, and even then only at lunch or dinner).
在蜜桃成熟的七八月份,桃子在一些中国城市随处可见,很多水果市场都有。阳山附近的火车站有很多人摆摊卖桃子,以至于整个车站散发出诱人的桃子芳香。当我告诉唐先生,美国人习惯早餐时吃水果,他感到惊讶。中国人几乎从不在早餐时吃桃子(及其他水果)。尽管中国大厨们能将各种奇特的食材扔到锅里,但桃子从来没被拿来做菜,也不会变成酱汁或冰淇淋。"你就这么吃,"唐先生耸耸肩说。其他水果也一样,例如橙子。我曾在橙子成熟季到过云南昆明;大街小巷都在卖橙子。但在五星级宾馆里我也没买到一杯鲜榨橙汁(只有高档酒店才提供鲜榨果汁,而且只有午晚餐才有)。
When Mr. Tang heard my recitation of the ways peaches are eaten in the U.S., his eyes lit up at the export possibilities. "Could our best peaches sell for 600 yuan a kilo in America?" he asked. That translates to $40 a pound.
当唐先生听到我提及美国人吃桃习惯时,他眼睛放光,看到了出口商机:"我们精品箱能在美国卖到每公斤600元?"这相当于每磅40美元呢。(即一只4.5两的桃子卖到20刀,约150软妹币!)
本文 蜜桃君成长记版权所有,转载请注明转自蜜桃君和文章链接。